Lessons learned from Alternative Fuels Experience

Purpose, Objectives and Key Question
IEA and EUWP (Working Party on energy End-Use technologies) have repeatedly asked the technology collaboration programmes for policy briefs and other more politically oriented messages that could be utilized and disseminated through the IEA network. Two important conclusions from the EUWP workshop on "Gaps and Barriers for Energy Technology Development and Deployment – a view from the Technology Collaboration Programmes (TCPs)" on 20 March 2017 was:
Further development on guidelines to TCPs on how to prepare policy briefs with more effective dissemination through the IEA.
Policy messages needed at different system levels, e.g. high level (IEA), technical level (TCPs), and country/national level.
Furthermore, the IEA Improve, Avoid and Shift approach is an important principle in the decarbonisation of the transport sector. Advanced motor fuels and thus AMF TCP could play an important role in this transition (especially in the case of "Improve"):
In "Improve" policies, the dissemination of advanced motor fuels is included as one important measure, and so far, has been implemented in many countries. Furthermore, in the long term, it will be necessary to replace fossil fuels with alternatives in the transport sector in order to maintain high transport services. Alternative liquid and gaseous fuels for internal combustion engines, as well as electricity for electric vehicles and hydrogen for fuel cell vehicles, are possible alternatives that help to reduce greenhouse gas emissions and local pollutant emissions from the transportation sector. Since the energy crises of the 1970s, many countries have taken measures to promote the use of alternative fuels. However, the experience of the past decades shows that these implementation attempts are not always successful. As shown in the following figure, Governments have politically been involved in promoting advanced motor fuels at various levels.
However, there are many kinds of policies relating to private business, and the fuel and technology area also faces strong voices from various actors advocating their specific solutions. So, the evaluation of the policies is difficult and complicated. In order for each country to advance the commercialization of advanced motor fuels more efficiently and effectively, the commercialization policies carried out in each country should be synthesized together as unbiased information to be shared in member countries. Furthermore, it is desirable to develop a policy brief for individual countries such as lessons learned and challenges on promoting advanced motor fuels.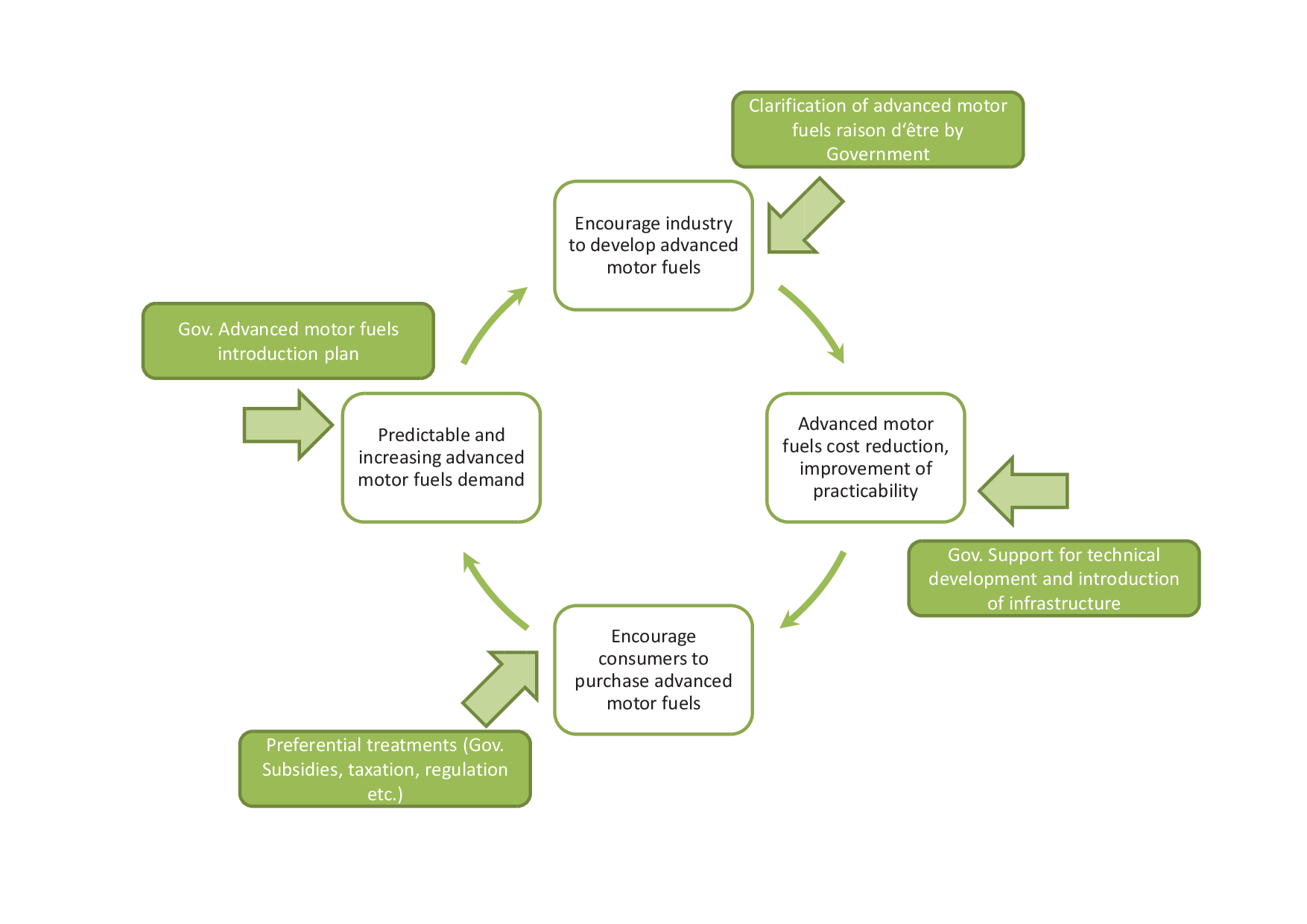 The circumstances of the introduction of advanced motor fuels and the factors influencing their commercialization (resource, transport infrastructure, economic situation, etc.) in each country are different, and it is difficult to universally evaluate an advanced motor fuels policy. In other words, there is a possibility that a success story of a certain country does not work well in other countries, and vice versa. For this reason, this annex clarifies the background and objective of the central government and local governments' introduction policy and specific measures on advanced motor fuels in the past, and summarizes the effectiveness, successes, and lessons learned regarding the promotion of advanced motor fuels in each individual case of introduction and commercialization. Policy briefs including best practices, lessons learned, avoided mistakes related to advanced motor fuels covering both fuels and related vehicle technologies will be developed.
Many different groups such as vehicle manufacturers and retailers, universities, NGOs, national and local authorities, media, vehicle users and fuel suppliers are involved in the process of researching and developing advanced motor fuel products and technologies from fundamental research to successful market introduction (see figure on next page).
While Annex XXI "Annex 21: Deployment Strategies for Hybrid, Electric and Alternative Fuel Vehicles" focused on all aspects from demonstration to market introduction, the proposed annex will focus on the actions taken by national and local authorities. It will survey the advanced motor fuels policies of the various central governments and local governments and assess market potentials and estimate cost effectiveness of various approaches to improved vehicle energy efficiency and reduced emissions of air pollutants and greenhouse gases.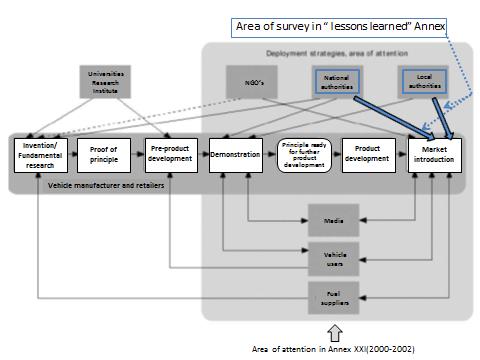 Here are the questions that the project "Lessons Learned on the Market Deployment of Advanced Engine Fuels" wants to pursue.
Which factors determine whether the market launch of alternative fuels and vehicles is successful or not?
Can success factors, obstacles and lessons for better action be deduced from the experiences of different countries in the last decades?
How can people involved in the development of market introduction measures be supported?

Activities / Work Packages
WP 1 Development of the method (operating agent)
The Operating Agent will (together with those partners that are interested to contribute) create a template with some key elements to be used for the description of the market introduction case studies of the various countries. The template will contain elements from the Argonne checklist which will be used in the evaluation of the case studies.
The Operating Agent and all partners will together define the structure of the final report and define the contributions required from individual annex participants.
WP 2 Case studies (country delegates)
Austria, Finland, Japan, Sweden and USA (and also further participating countries) will collect data and information on past market introduction case studies and describe these according to the template developed in WP1. All participants will provide case study descriptions in form of a report, derived from own analysis of past market introduction case studies.
They will follow the procedure as described below:
Identification of case study/ies to be described
Description based on own knowledge
Collection of insights from relevant stakeholders
Identification of key drivers of successes and key barriers of failures
Quantification of the success / failure of the collected examples on the basis of used fuel quantities, vehicle inventory, GHG savings achieved
WP 3 Data analysis (all partners)
Analysis of each case study:
All partners will analyse their own case studies. For each case study, the drivers for the market implementation, the country-specific circumstances, measures taken, stakeholders involved and aspects from the Argonne checklist that were eventually overlooked are checked against the result of the market implementation. Success factors and show-stoppers as identified in the case study descriptions are supplemented with the results from own analysis. A first draft of case-specific lessons learned and recommendations is created.
Comparative analysis of all case studies:
The Operating Agent will (together with those partners that are interested to contribute) analyse whether comparable measures have led to comparable results, and whether case-specific lessons learned and recommendations can be transferred to other cases. A first draft of general lessons learned and recommendations is created.
WP 4 Expert workshop (operating agent)
The Operating Agent will organize and implement an expert workshop. The agenda for the workshop as well as the participants will be identified together with all partners. The results from WP3 shall be presented and discussed with workshop participants.
WP 5 Development of lessons and recommendations (operating agent)
Based on the results and discussions of the expert workshop the final lessons learned and recommendations are derived.
WP 6 Reporting and Communication (operating agent)
Preparation of the annex final report and the key messages / policy briefs. Dissemination of results through the final report, the key messages and presentations at relevant national and international conferences. All partners should contribute to the final report, the key messages and the dissemination through presentations.
The flow of work packages throughout the project is depicted below.
Expected Results / Deliverables
1) Summary of central government/local government policies
Implementing ministries, content of measures, budget, duration, requirements etc.
2) Effectiveness of AMF promotion measures
AMF penetration results, CO2 reduction effects, energy saved, etc.
3) Case study
Success stories, lessons learned and issues identified
4) Wrapping
An analysis of which measures have worked well and which did not reach the anticipated results.

Policies and incentives that worked out well in general
Pinpointing what has not worked out that well
Possible show-stoppers
Policy briefs to facilitate implementation of advanced motor fuels
Project Duration

April 2019 - December 2020

Participants

Task Sharing

Cost Sharing

Austria, China, Finland, Japan, Sweden, USA

Total Budget

€ 140.000 (~ USD 156.500)

Operating Agent

BEST - Bioenergy and Sustainable Technologies GmbH
Andrea Sonnleitner
andrea.sonnleitner@best-research.eu